Infrared radiation
Infrared radiation, invisible to the human eye, can be used to send energy to exposed surfaces.
This electromagnetic radiation (comparable to the Sun's radiation) is transformed into heat on contact with a surface. Using this technique, energy savings of up to 30% can be achieved compared with a warm air system.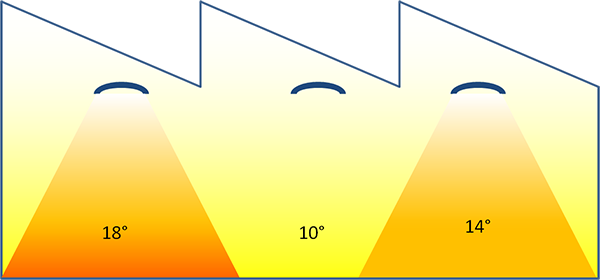 Advantages of radiation heating:
It does not stir up dust lying about in the building and, as there are no large fans moving large amounts of air, and it does not increase the noise level. Result: a pleasant and comfortable ambience.
It avoids any air stratification (by limiting the heating of the air mass in the building) and therefore no extra destratifiers need be installed.
It makes a substantial contribution to reducing the energy bill for the building: lower power is required compared with convection systems (no heating of the air mass), for the same level of comfort.
Warm up is fast..
Zone heating is possible.
Applications of radiation heating:
This technique is used in very lossy buildings: large buildings 5 metres or higher, very poorly insulated or not insulated, or can be used to heat only one zone or part pof a building.
Product range of « Infrared radiation »